Turn-Key Advocacy Days & Fly-Ins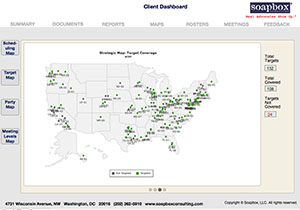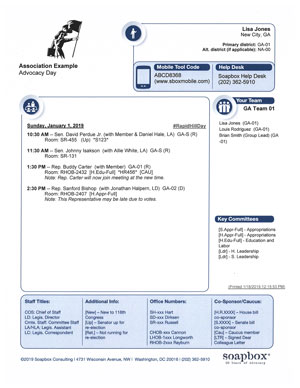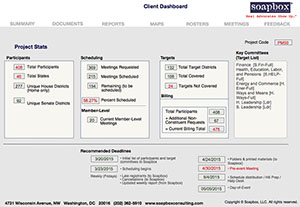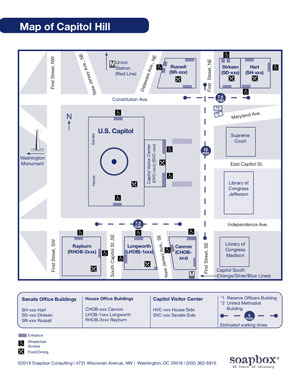 Securing a legislative meeting for a constituent is not always an easy task. On average, getting on the calendar at a legislative office takes six phone calls and/or emails. That's why so many meetings fall through the cracks and why so many Government Relations departments come to a screeching halt in the weeks before a fly-in or advocacy day.
A Soapbox Advocacy Day not only frees your staff from the chaos of securing the meetings, it provides a professional-level service to your advocates that communicates to them that you take their advocacy seriously.
Soapbox Advocacy Days include:
Comprehensive appointment scheduling by seasoned Government Relations pros
Weekly reports, include access to our real-time client dashboard
Tracking maps for coverage, targets, and meeting levels
Individual schedules for all participants
Seamless integration on schedules of key committee members, co-sponsorships, caucus memberships, votes, etc.
On-site Congressional Help Desk on your training day
Immersive, interactive, and entertaining Soapbox Capitol Hill training by Christopher Kush, MPP (author of

Grassroots Games and The One-Hour Activist

).
Soapbox Advocacy Day Mobile Tool
The Mobile Tool is not an advocacy day app. Your advocates never need to download or install anything. The Mobile Tool cloud-based tool that provides real-time information to advocacy day organizers and participants. It works from any web-connected device: iPhones, Android, tablet, laptops and desktops.
Participant access to the Soapbox Advocacy Day Mobile Tool provides:
Preliminary schedules (pre-event)
Personalized schedules
Seamless notation of key committees, co-sponsors, etc.
Real-time schedule changes
System-wide day-of-event alerts
Meeting feedback with custom questions
StoryBank feature to collect your advocates stories
Links to member bios
Easy meeting photo collection tool
Soapbox Help Desk button
Client access to the Soapbox Advocacy Day Master Mobile Tool provides:
Full event roster
Meeting lists for each participant
Master list of congressional meetings
Rosters for each congressional meeting
Soapbox Help Desk button
The Soapbox Advocacy Day Mobile Tool also provides the following capabilities:
Provide up to nine PDF documents to your advocates
Feedback spreadsheet that automatically captures meeting and participant information
Photo engine that captures pictures from your event and tags them with the participant and meeting information
Collected stories of your advocates via StoryBank, enabling you to re-connect with congressional offices after your advocates have returned home
To find out how Soapbox Consulting can make your Advocacy Days and Fly-ins easier, contact Angela Taylor.