Our Books & Guides
One-Hour Activist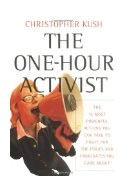 The 15 Most Powerful Actions You Can Take to Fight for the Issues and Candidates You Care About
by Christopher Kush, MPP
Available for Kindle and iPad
No matter what your political persuasion, The One-Hour Activist is your guide to influencing lawmakers, candidates, and reporters. The One-Hour Activist reveals fifteen powerful, proven grassroots actions that persuade lawmakers and candidates to see things your way.
Each action is designed to grab the attention of your representatives and build relationships that serve your issues over the long run. And each action takes less than an hour to complete, so you can make a difference without giving up your life!
The One-Hour Activist is packed with insider advice from elected officials, professional organizers, lobbyists, and journalists who share state-of-the-art tips for getting your message across. Real-life examples of effective letters, e-mail, phone calls, public testimony, and news story pitches from concerned citizens just like you illustrate the actions.
Tactics you will learn:
How to distinguish your letters and e-mail in the flood of correspondence elected officials receive.
Why lawmakers crave your personal stories, local information, and opinions.
Powerful ways to influence candidates so you represent more than a single vote on Election Day.
Strategies for identifying, tracking, and analyzing current legislation.
Ways to neutralize the efforts of your opposition.
Political organizations than can coordinate your efforts with others who share your views.
What local newspaper editors seek to publish in letters from readers like you.
Includes five additional advanced grassroots actions such as meeting with elected officials, delivering public testimony, and pitching news stories.
Order the One-Hour Activist from Amazon.com.
---
Grassroots Games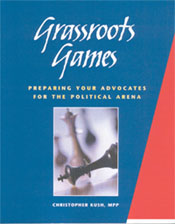 Preparing Your Advocates for the Political Arena
by Christopher Kush, MPP
Carry the torch for effective grassroots efforts by training your advocates to deliver your organization's message with confidence. Packed with interactive exercises, Grassroots Games helps your advocates understand the political process, prepare for legislative meetings, and work effectively with the news media. Use the games described in this book to foster group participation, active learning, and flexibility to deal with the unexpected.
Grassroots Games includes 26 interactive group exercises, including:
Warm-up exercises
Legislative meeting role-plays
Public speaking preparation
News media skills
Train-the-trainer exercises for regional coordinators
Order Grassroots Games from American Society of Association Executives (ASAE)
---
To order books through Soapbox Consulting:
All titles are available through Soapbox Consulting, LLC. Customized covers and volume discounts may be available with your order.
Please contact us via e-mail to order books.