Capitol-Based Relationships & Advocacy Days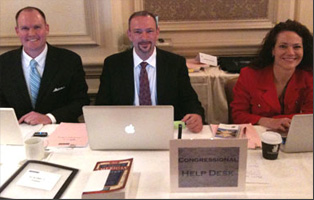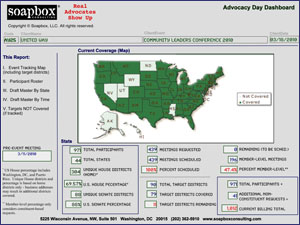 Securing a legislative meeting for a constituent is not always an easy task. On average, getting on the calendar at a legislative office takes six phone calls and/or emails. That's why so many meetings fall through the cracks and why so many Government Relations departments come to a screeching halt in the weeks before a fly-in or advocacy day.
A Soapbox Advocacy Day not only frees your staff from the chaos of securing the meetings, it provides a professional-level service to your advocates that communicates to them that you take their advocacy seriously.
Soapbox Advocacy Days include:
All appointment scheduling
Weekly reports and updates
Individual schedules for attendees
Master schedules and master rosters for event organizers
Interactive Capitol Hill Preparation training
On-site help desk.
The Soapbox Advocacy Day App
We can also help you prepare your participant and leave behind folders.
To find out how Soapbox Consulting can make your Advocacy Days and Fly-ins easier, contact Christopher Kush.
Legislative Appointments & Personalized Schedules
Individualized schedules give every Advocacy Day participant a sense of personalized attention. Soapbox schedules individual legislative meetings based on the addresses, service areas, or the existing relationships of your event participants. We can also help you identify, recruit for, and request appointments with your representatives from key committees.
Interactive Capitol Hill Preparation (Advocacy Training)
Soapbox's unique Interactive Capitol Hill Preparation (Advocacy Training) compliments your issue briefing. We help each participant develop their local information and build confidence while stressing the importance of staying on message. Our Hill Preparation includes a thorough explanation of Hill logistics and addresses all questions related to the schedules.
The Soapbox Advocacy Day App
The Soapbox Advocacy Day App puts a Soapbox Advocacy Day in the palm of your hand. Your advocates have access to personalized schedules with real-time updates, Congressional bios, custom messages, live support, and much more. Click here to see more.
Leave-Behind Folders
Provide us master copies, and we will deliver completed Advocacy Day folders to your event site. We can help duplicate, assemble, and label leave-behind folders for each of your legislative meetings and provide folders for your participants, too.